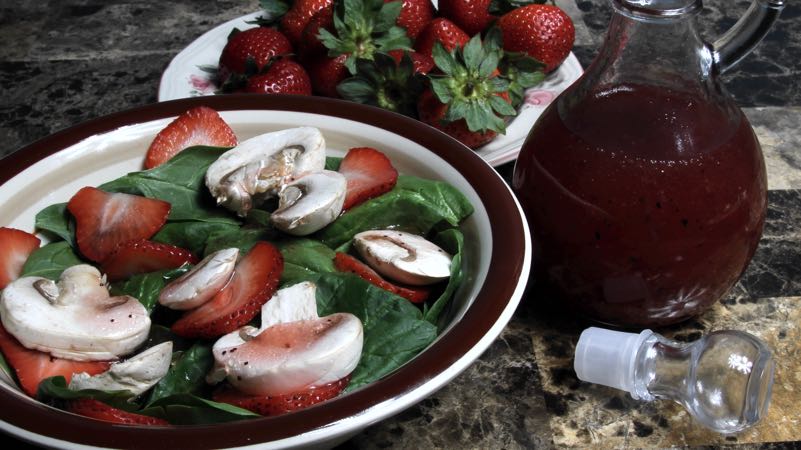 Gluten-Free Spinach Salad with Strawberries Recipe
Author: Deena Segal
Prep time: 10 mins
Total time: 10 mins
Nothing beats a fresh salad. This Gluten-Free No Sugar Added spinach and strawberry salad is perfect for any occasion. Whether you're hosting a big crowd or just dinner for the family, this salad not only packs a big nutritional punch, but it's refreshing and satisfying. You can easily prepare it ahead of time and even add your favorite protein to make a complete one bowl meal.
1 package spinach, prewashed
12 strawberries
12 mushrooms
Remove the stems from the spinach and tear it into bite-sized pieces. Divide the spinach evenly into 4 salad bowls.
Wash strawberries, remove the green tops, and slice them in quarters.
Clean mushrooms and slice.
Distribute 8 strawberry quarters and ¼ of the sliced mushrooms evenly among each of the salad bowls.
Drizzle the raspberry vinaigrette salad dressing over each salad to taste.
Calories: 25
Fat: trace
Sugar: 0g
Fiber: 2g
Protein: 1g
If you are serving your meal buffet style or attending a potluck, put the salad dressing into a pretty pitcher or jug so everyone can add their own dressing to taste. It's so much classier than putting the bottle of dressing out on the table. Don't throw out the bottle though, since you may need it to pour leftover dressing back into.

Make Ahead Tip: Prepare all the produce ahead of time and store them in individual Zip Lock bags or rigid containers and refrigerate them until just before the meal. Slap the salads together at the last minute.
Recipe by
GlutenSmart.com
at https://www.glutensmart.com/spinach-and-strawberry-salad-recipe.html