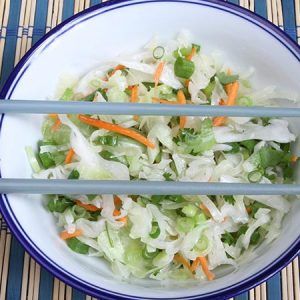 Asian Style Cole Slaw Gluten-Free Recipe
Author: Deena Segal
Prep time: 15 mins
Total time: 15 mins
Low in sugar and high in antioxidants, this Asian Style Cole Slaw recipe tastes amazing! It pairs well with almost any protein and is a snap to prepare. You can make it ahead of time and let it sit in the fridge until needed. It also makes a great party dish for barbecue season and beyond.
⅙ cup rice vinegar
¼ teaspoon Chinese 5 spice powder (or to taste)
1 tablespoon vegetable oil
1 teaspoon toasted sesame oil
¼ teaspoon salt (or to taste)
½ large head Savoy cabbage (about a 2½ pound cabbage), thinly sliced
1 carrot, shredded
2 green onions, thinly sliced
¼ cup chopped fresh cilantro leaves (Fresh parsley may be substituted)
In a large bowl, use a wire whisk or a fork to mix together the rice vinegar, Chinese 5 spice powder, vegetable oil, sesame oil, and salt.
Add the cabbage, carrots, green onions, and cilantro; toss gently until the dressing is evenly distributed over the vegetables.
Cover tightly and refrigerate until it is time to serve.
Calories: 30
Fat: 2g (1 Calorie from Fat)
Sugar: 0g
Fiber: 1g
Protein: trace
This recipe makes enough for leftovers, which keep quite well, covered, in the refrigerator for several days. It's a great addition to a packed lunch!
Recipe by
GlutenSmart.com
at https://www.glutensmart.com/asian-style-cole-slaw-gluten-free-recipe.html