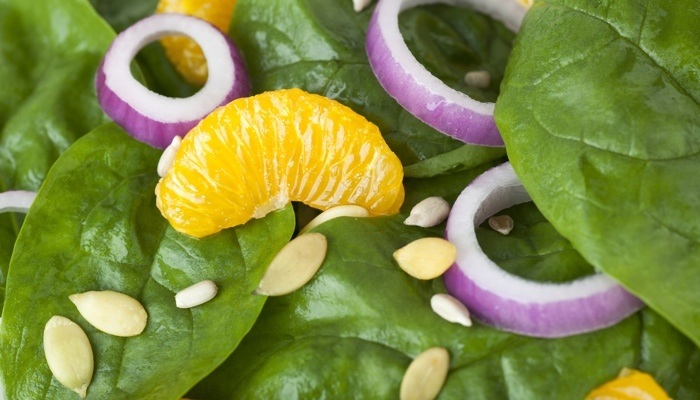 Spinach Salad With Mandarin Orange Gluten-Free Recipe
Author: Deena Segal
Prep time: 5 mins
Total time: 5 mins
A Gluten-Free Spinach Salad with Mandarin Oranges is a lovely addition to just about any meal. This salad is not weighed down by heavy cheeses or nuts and can be served as a side dish or a salad course.
6 cups prewashed spinach
2 thin slices red onion
24 mandarin orange segments, canned or fresh
Salad dressing of your choice
Divide the spinach greens between 4 salad plates or bowls.
Separate the onions into rings and divide them evenly in the salad bowls atop the spinach leaves.
Drain the mandarin oranges and place a few orange segments 4-6 on top of the spinach leaves and onion rings. Refrigerate the leftover mandarin oranges for another day.
Let everyone add their salad dressing at the table.
Calories: 29
Fat: trace
Sugar: 0g
Fiber: 2g
Protein: 2g
Nutritional information does not include salad dressing.

Whenever you use a canned ingredient, try to use organic. Not only is it much healthier, but it also tastes better.
Recipe by
GlutenSmart.com
at https://www.glutensmart.com/spinach-salad-with-mandarin-orange-recipe.html