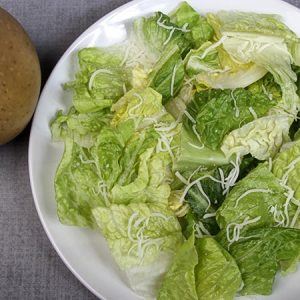 Easy Caesar Salad Gluten-Free Recipe
Author: Deena Segal
Prep time: 15 mins
Total time: 15 mins
Gluten-Free Caesar Salad is a classic. It has No Sugar Added and is an easy to make and elegant to serve. It pairs well with just about many dish and can be made into a meal by simply adding your favorite protein. Most people buy bottled dressing which is certainly an option if you're short on time. However, my Caesar dressing recipe is so simple you can make it in 5 minutes. It's creamy and isn't too garlicky or too fishy; it's just right!
6 cups Romaine lettuce, prewashed
Thickly shredded Parmigiano-Reggiano cheese to garnish
Divide the Romaine lettuce between 4 salad bowls or plates. Top with Caesar dressing and shredded Parmesan cheese to taste.
Calories: 152
Fat: 14g (130 Calories from Fat)
Sugar: 0g
Fiber: 1g
Protein: 1g
Parmigiano-Reggiano should be freshly grated. Parmesan cheese that comes already grated is usually coated with flour to prevent caking.

If you have homemade mayonnaise on hand, it is a far better choice than store bought mayo.

Leftover dressing can be kept in a sealed container in the refrigerator for future use.

Includes 2 tablespoons dressing per person.
Recipe by
GlutenSmart.com
at https://www.glutensmart.com/easy-gluten-free-caesar-salad-recipe.html