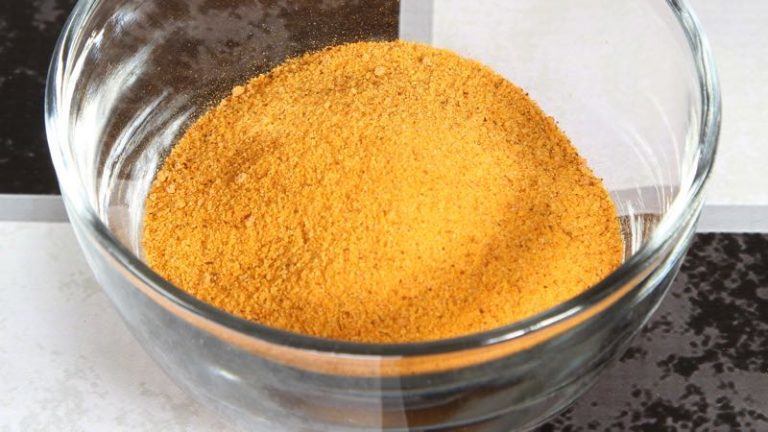 Gluten-Free Seasoning Salt Recipe
Author: Deena Segal
Prep time: 10 mins
Total time: 10 mins
A quality Gluten-Free Seasoning Salt salt is a <g class="gr_ gr_50 gr-alert gr_spell gr_run_anim ContextualSpelling ins-del multiReplace" id="50" data-gr-id="50">must have</g> <g class="gr_ gr_54 gr-alert gr_gramm gr_run_anim Grammar only-ins doubleReplace replaceWithoutSep" id="54" data-gr-id="54">blend</g> for every kitchen. Simple to make, this blend will make meal prep quick and easy.<br>Seasoning Salt can be used in just about anything from soups to meats, and anything savory in between.
⅓ cup salt
2 tablespoons pepper, ground
1 tablespoon chili powder
1 tablespoon sugar-free bouillon powder
1 tablespoon minced parsley
1 teaspoon onion salt
1 teaspoon onion powder
1 tablespoon garlic salt
1 teaspoon cumin powder
1 teaspoon dry marjoram leaves
1 teaspoon paprika
½ teaspoon curry powder
Mix all ingredients together thoroughly, or put all ingredients in 1-quart mayonnaise jar with a tight fitting lid, and shake them until they are thoroughly blended.
Store at room temperature and use within 3 months.
Spice mixes make great gifts for holidays and house warming parties. Simply pour mixture into a
pretty spice jar
and handwrite a colorful label to affix to the bottle with the name of the blend and "from the kitchen of ...)
Recipe by
GlutenSmart.com
at https://www.glutensmart.com/gluten-free-seasoning-salt-recipe.html