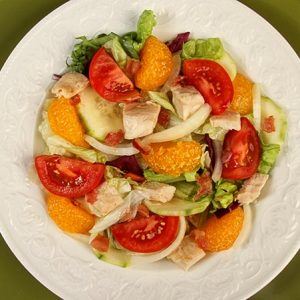 Gluten-Free No Sugar Added Citrus Chicken Salad Recipe
Author: Deena Segal
Planning healthy Gluten-Free meals is all about flexibility. You have to think outside the box and be willing to make modifications to suit your own personal needs. For example, this evening's meal is centered on Gluten-Free No Sugar Added Citrus Chicken Salad, which is something that both Gluten-Free and non-Gluten-Free eaters should find appealing.
Marinade
2 teaspoons grated orange rind
2 tablespoons fresh orange juice
2 tablespoons fresh lemon juice
2 tablespoons fresh lime juice
2 tablespoons dry sherry
1 tablespoon safflower oil
1 tablespoon minced shallots
¼ teaspoon black pepper
Chicken
safflower oil or nonstick cooking spray
4 skinless, boneless chicken breasts
Salad
1 16-ounce bag prewashed salad greens of your choice
½ cucumber, peeled and sliced
1 4-ounce can mandarin orange slices
12 cherry tomatoes, halved
¼ sweet onion, thinly sliced
Simple Girl Citrus Ginger Dressing Salad Dressing (or salad dressing of your choice)
Place all the marinade ingredients in a small bowl and whisk them together to combine them thoroughly.
Pour half the marinade into a shallow pan or baking dish. Place the chicken breasts in the marinade, then pour the remaining marinade over the chicken breasts. Cover the chicken tightly with plastic wrap and refrigerate for at least a half an hour or as long as 24 hours. Turn the chicken breasts once in a while to keep them well-coated with the marinade.
Place the oven rack 4 to 5 inches below the broiler element of your oven. Preheat the broiler.
For easy cleanup, cover your broiler pan with heavy duty aluminum foil. Cut a few slits in the foil to correspond with the slits in the boiler pan. Lightly oil the foil with safflower oil or nonstick cooking spray.
Place the chicken breasts on the aluminum foil-covered broiler pan. Reserve the excess marinade.
Broil the chicken for 5 minutes. Take the chicken out of the oven, turn the chicken breasts, and brush the uncooked side of the breasts with some on the excess marinade. Return the chicken breasts to the oven and continue cooking them for an additional 5 minutes, or until the chicken is thoroughly cooked through and the juices no longer run clear.
Turn off the broiler. Discard the remaining marinade.
Let the chicken breasts cool for about 5 minutes. While the chicken is cooling, arrange the salad greens, sliced cucumber, halved cherry tomatoes, and sliced onions evenly on four dinner plates.
Transfer the cooled chicken breasts to a cutting board and cut them into bite-sized pieces. Divide the chicken breasts evenly among the salads. Garnish with the crumbled bacon and sprinkle the salad dressing over everything.
Serves 4 generously.
Recipe by
GlutenSmart.com
at https://www.glutensmart.com/gluten-free-citrus-chicken-salad-recipe.html