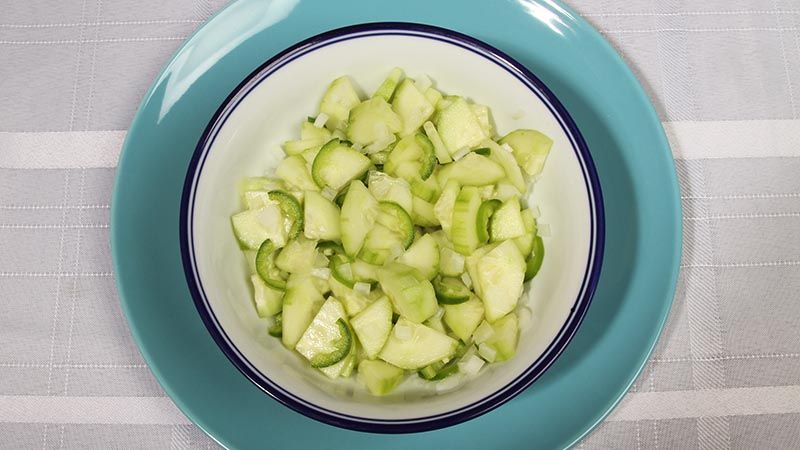 Thai Cucumber Salad Recipe
Author: Deena Segal
Gluten-Free Thai Cucumber Salad Recipe is sweet and hot and so good! This is one of those magnificent recipes that is Gluten-Free, No Sugar Added, low fat, low calorie, okay for vegetarians -- and tastes great. That makes it a terrific choice for potlucks and parties – anywhere where you have to cater to a variety of ways of eating.
3 medium cucumbers
1 small, fresh jalapeno
½ small red onion
2-3 cloves fresh garlic, crushed
2 tablespoons grated fresh ginger
¼ teaspoon pepper
½ teaspoon salt
½ cup rice vinegar
2 tablespoons Splenda (or the sweetener of your choice to equal 2 tablespoons sugar -- I like to use 6 drops of EZ Sweetz liquid sucralose, because it has no maltodextrin filler.)
I do this in my food processor, but you can certainly cut stuff up by hand.
With the S-blade in place, I put the onion and the jalapeno, seeds removed, in the food processor, and pulse until they are both finely chopped. (Wash your hands really well after handling that jalapeno, or you'll be sorry the next time you touch your nose or eyes!)
Remove the S-blade, and put on the slicing disk.
Quarter the cucumbers lengthwise, then run them through the slicing disk.
If you're not using a food processor, you'll want to dice the onion and mince the jalapeno, then slice the cucumber as thin as you can.
Put all the veggies in a big bowl.
Combine the garlic, ginger, vinegar, salt, pepper, and Splenda well, and pour over the vegetables.
Mix well, and chill for several hours.
Calories: 25
Fiber: 1g
Protein: 1g
Recipe by
GlutenSmart.com
at https://www.glutensmart.com/gluten-free-thai-cucumber-salad-recipe.html