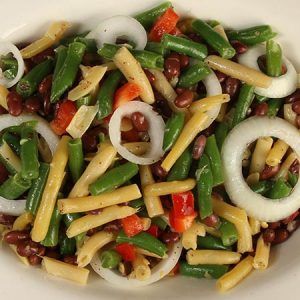 Low-Carb Gluten-Free Marinated Three Bean Salad Recipe
Author: Deena Segal
This Gluten-Free version of three bean salad has wax beans, green beans, and black soy beans. It is flavored with a simple sweet-sour vinegar and oil dressing, a nice salad for a special meal or potluck.
½ pound wax beans, fresh
½ pound green beans, fresh
1 can Soy Beans, Eden Black (8.5 ounce) drained
1 small onion, halved and separated into rings
½ cup red bell pepper, chopped
⅔ cup vinegar
½ cup vegetable oil
½ cup Splenda granular
1 teaspoon celery seed
¼ teaspoon dry mustard, (optional)
Clean the wax beans and green beans, discarding the ends. Microwave in a small amount of water for 7-10 minutes, or until crisp-tender. Place the cooked beans in a colander and run cold water over them to stop the cooking process. Drain and cool the beans completely.
In a large bowl, combine the cooled green and wax beans, the black soy beans, the onion rings, and the red bell pepper.
In a small jar with a screw-top lid combine the vinegar, vegetable oil, Splenda, celery seed and dry mustard, of desired. Cover and shake well to blend the ingredients.
Pour the vinegar mixture over the vegetables. Stir gently, then cover and refrigerate for 8 hours or overnight, stirring occasionally. Drain before serving.
Calories: 244
Fat: 18g (64.0% calories from fat)
Fiber: 4g
Protein: 10g
Cholesterol: 0mg
Recipe by
GlutenSmart.com
at https://www.glutensmart.com/gluten-free-three-bean-salad-recipe.html