Gluten-Free, No Sugar Added, Primal, Nut-Free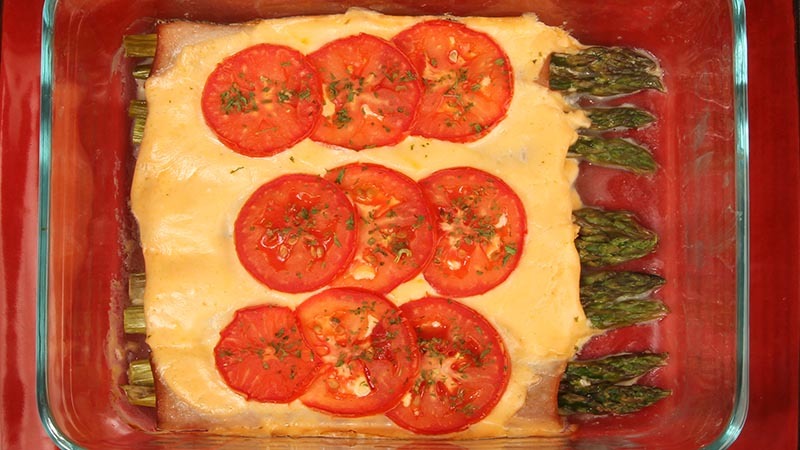 Asparagus and Turkey Roll Up Casserole Recipe
Turkey and Asparagus Roll Up Casserole Recipe
For those crazy days when you're convinced you can't get dinner to the table before 10 pm, Asparagus and Turkey Roll Up Casserole is great to make ahead of time. It reheats well, so you can prepare it a day ahead and refrigerate until ready to use. This Gluten-Free No Sugar Added recipe calls for a homemade cheddar sauce, but if you are short on time and have a jarred sauce that you're comfortable with, feel free to use it.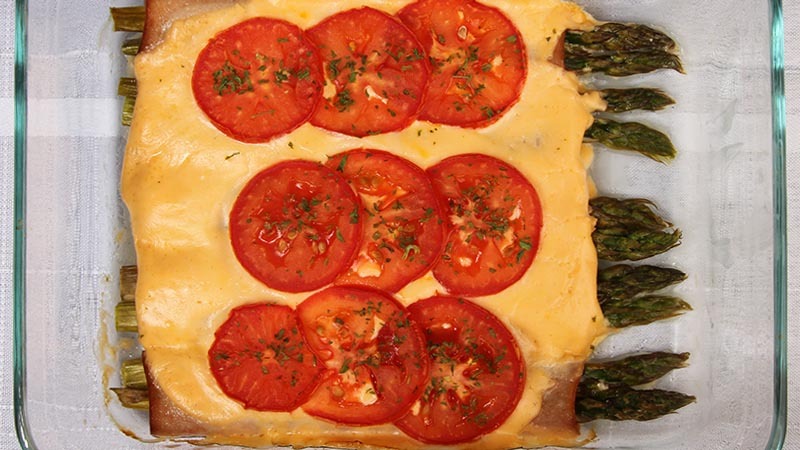 Recipe type:
Gluten-Free, No Sugar Added, Primal, Nut-Free
Prep time:
Cook time:
Total time:
Ingredients
Cheddar Sauce
½ cup heavy cream
4 tablespoons cream cheese, diced at room temperature
½ cup cheddar cheese, shredded
¼ teaspoon dry mustard
Salt and white pepper, to taste
Casserole
1 pound deli turkey breast, sliced medium
1¼ pound asparagus spears, fresh or frozen, thawed and drained
Cheddar Sauce (recipe above)
1-2 Roma tomatoes or about 4 cherry tomatoes
dried parsley
Instructions
Cheddar Sauce
In a medium saucepan over medium-low heat, warm the cream.
Add the cream cheese and whisk well until melted.
Add the cheddar cheese about one tablespoon at a time, letting it melt before whisking in more.
Stir in the mustard, salt, and pepper and whisk well one last time.
Casserole
Preheat the oven to 350° F while you are constructing the casserole.
Clean and trim asparagus to the desired length.
Take 2 asparagus spears and roll them up in 1 slice of the deli turkey.
Place the turkey and asparagus roll in a baking dish, seam side down.
Repeat the procedure with the remaining turkey and asparagus until both are all used up.
Pour the Cheddar Sauce over the turkey and asparagus rolls, and use a spatula to smooth it out and distribute it evenly.
Slice the tomatoes thinly and place them on top of the sauce.
Sprinkle the top of the casserole with a bit of dried parsley to add some additional color to the dish.
Bake for 30-40 minutes, or until everything is hot and bubbly.
Serve immediately with steamed broccoli spears and a nice, Spinach and Strawberry Salad (INSERT LINK)[/url].
Notes
This recipe can easily be doubled. It reheats well, and can also be made up to 24 hours ahead of time and baked at the last minute.

You can substitute ham for the turkey. Or, to turn this into a company breakfast casserole by placing sliced hard-boiled eggs on top in addition to the tomatoes.
Nutrition Information
Serving size:
3 Roll-Ups
Calories:
425
Fat:
24g; 212 Calories from Fat
Trans fat:
0g
Carbohydrates:
12g (10g net carbs)
Sugar:
0g
Sodium:
1983mg
Fiber:
2g
Protein:
41g