Gluten-Free, No Sugar Added, Paleo Optional, Primal, Vegetarian, Vegan Optional, Dairy-Free Optional, Nut-Free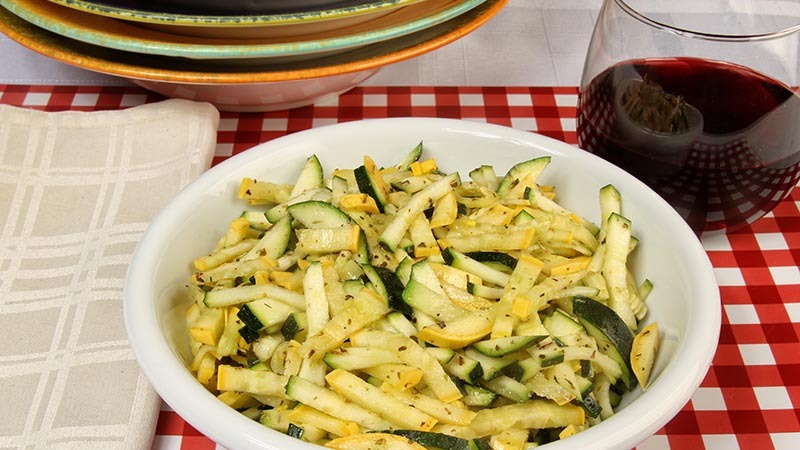 Gluten-Free Sautéed Italian-Style Summer Squash Recipe
Gluten-Free Italian-Style Sautéed Summer Squash Recipe
Spring, summer, autumn, or winter, this Gluten-Free Sautéed Italian-Style Summer Squash goes with everything! It can be served with fish, beef, or chicken and will elevate any meal.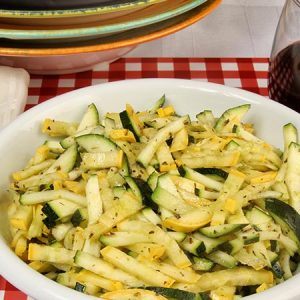 Recipe type:
Gluten-Free, No Sugar Added, Paleo Optional, Primal, Vegetarian, Vegan Optional, Dairy-Free Optional, Nut-Free
Prep time:
Cook time:
Total time:
Ingredients
1 zucchini squash
1 crookneck squash
4 tablespoons olive oil (more if needed)
1 teaspoon Italian seasoning blend
dash garlic powder
⅛ teaspoon onion powder
1 tablespoon grass-fed butter
Instructions
After washing the squash thoroughly, slice each squash in half lengthwise.
Cut each half into 2-inch lengths.
Julienne the sections of squash by placing the sections on their flat sides and slicing each one in thin strips.
Pour the olive oil into a large skillet or frying pan.
Add the Italian seasoning blend, garlic powder, and onion powder and stir with a spatula or wooden spoon to incorporate the spices into the oil.
Heat the oil over medium high heat, then add the squash.
Sauté, tossing the squash frequently, until the squash is crisp-tender. This will take 5-10 minutes.
Add the butter and continue cooking and tossing the squash until the butter is melted.
Serve immediately.
Notes
To make this dish dairy-free or Paleo, simply eliminate the butter.
Nutrition Information
Serving size:
¾ cup
Calories:
107
Fat:
11g (94 Calories from Fat)
Trans fat:
0g
Carbohydrates:
2g (1g net carbs)
Sugar:
0g
Sodium:
2mg
Fiber:
1g
Protein:
1g