Written by Deena Segal June 15, 2016
Gluten-Free, Sugar-Free, Paleo Optional, Primal, Vegetarian, Dairy-Free, Nut-Free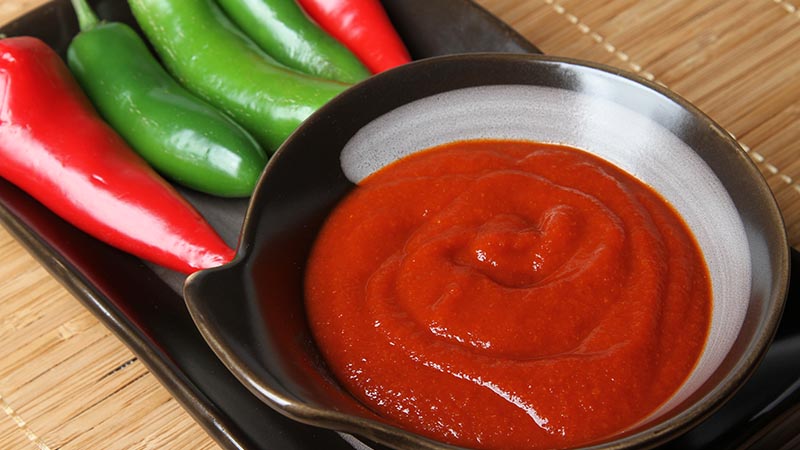 Sriracha Sauce Sugar-Free Gluten-Free Recipe
Sriracha Sauce Sugar-Free Gluten-Free Recipe
When I began removing all the processed foods from our pantry, I was very hesitant to let go of my Huy Fong Sriracha sauce. But as I read the ingredient label, I knew it had to go. Remember that most sriracha is fermented. Because I don't have the patience to wait, I created a version that does not require the fermentation process. This sriracha sauce will last about 2 weeks in the pantry or much longer in the refridgerator. You can of course make a big old mess of wings and use it up immediately.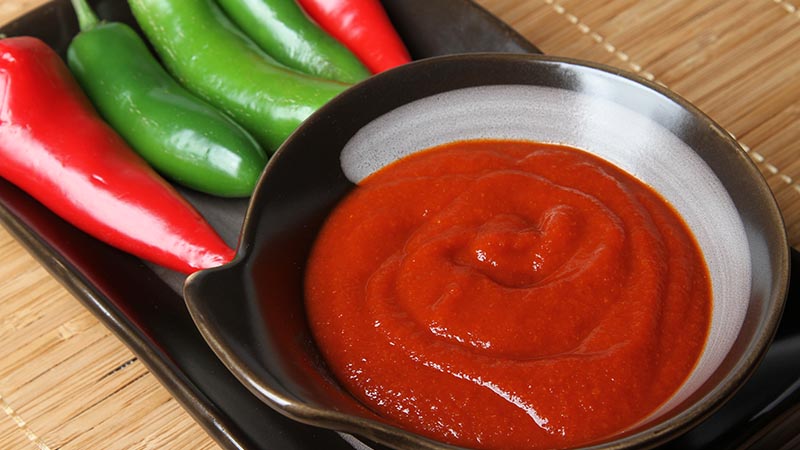 Recipe type:
Sugar-Free, Gluten-Free, Paleo Optional, Primal, Vegetarian, Dairy-Free, Nut-Free
Prep time:
Cook time:
Total time:
Ingredients
½ pound red jalapeno peppers, fresh
¼ pound red Serrano peppers, fresh
¼ pound mini red sweet peppers, fresh
8 cloves garlic, peeled and smashed
⅓ cup apple cider vinegar
3 tablespoons tomato paste
18 drops liquid stevia
2 tablespoons coconut aminos
1½ teaspoons kosher salt
Instructions
Remove ends and seeds from the peppers and throw into a food processor or high speed blender (see notes for handling peppers).
Add the remaining ingredients to the food processor and puree until smooth.
Pour the sauce into a medium saucepan. Cook over high heat until the sauce begins to boil and the foam has disappeared.
Reduce to a simmer and cook for 15 minutes. Taste and adjust flavor with additional vinegar, coconut aminos, or stevia.
Remove from heat and allow to cool completely.
If you prefer a smoother sauce, strain mixture through a fine mesh strainer.
Transfer sauce to jars and refrigerate.
Notes
Please wear disposable gloves when dealing with the peppers as they can burn the skin and eyes. Wash hands well with soap and water after removing gloves.
VARIATIONS
I make my sriracha with 50% red jalapenos, 25% sweet peppers, and 25% red Serrano peppers. You can change up the peppers to fit your personal hotness profile (I just made that term up, but it works, huh?). I like a sweetness in my sriracha so I use sweet red peppers along with the hot peppers–you know, the cute little peppers next to the bell peppers. If you prefer straight out "fire in my mouth" sauce, you can replace the sweet peppers with red Fresno peppers.
Fish sauce
or
gluten-free soy sauce
may be substituted for coconut aminos.
For a more authentic Paleo version, use 3 tablespoons honey in place of the stevia.
Nutrition Information
Serving size:
1 Teaspoon
Calories:
2
Fat:
trace (0.14 Calories from Fat)
Trans fat:
0g
Carbohydrates:
trace
Sugar:
0g
Sodium:
47mg
Fiber:
trace
Protein:
trace
Looking for more
Gluten-Free Condiment recipes
?