Gluten-Free, No Sugar Added, Paleo, Primal, Vegan, Dairy-Free, Nut-Free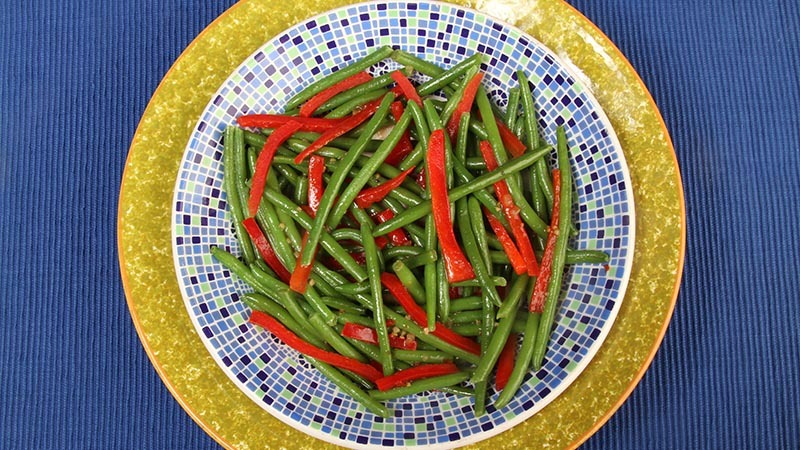 Italian Seasoned Green Beans Low-Carb Recipe
Italian Style Green Bean Gluten-Free Recipe
This super easy Gluten-Free, No Sugar Added Italian Seasoned Green Bean recipe is delicious. You can use bottled dressing which makes it much quicker to prepare. I prefer the
Walden Farms Calorie-Free dressing
, but if you are Paleo or Primal, you may choose to make your own. It pairs well with beef, chicken, fish, or lamb and reheats easily if you are bringing it to a gathering. If you don't have fresh green beans, simply thaw out a bag or two of frozen beans and use those.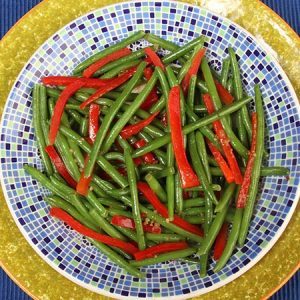 Recipe type:
Gluten-Free, No Sugar Added, Paleo, Primal, Vegan, Dairy-Free, Nut-Free
Prep time:
Cook time:
Total time:
Ingredients
2 tablespoons garlic infused olive oil OR 2 tablespoons plain olive oil + ¼ teaspoon garlic powder
½ red bell pepper, julienned
3 cups green beans
2 tablespoons Italian salad dressing
Instructions
Pour the garlic flavored olive oil into a large frying pan or skillet. If you are using plain olive oil, pour it in the frying pan or skillet and sprinkle the garlic powder into it. Heat over medium high.
Add the julienned red bell pepper and the green beans to the olive oil and stir fry until crisp tender, about 3-5 minutes.
Drizzle the Italian salad dressing over the vegetables and continue cooking for 1 minute, or until the salad dressing is heated through.
Serve immediately.
Nutrition Information
Serving size:
¾ cup
Calories:
90
Fat:
7g (58 Calories from Fat)
Trans fat:
0g
Carbohydrates:
7g (4g net carbs)
Sugar:
0g
Sodium:
5mg
Fiber:
3g
Protein:
2g