Gluten-Free, No Sugar Added, Paleo, Primal, Vegetarian, Vegan, Nut-Free, Dairy-Free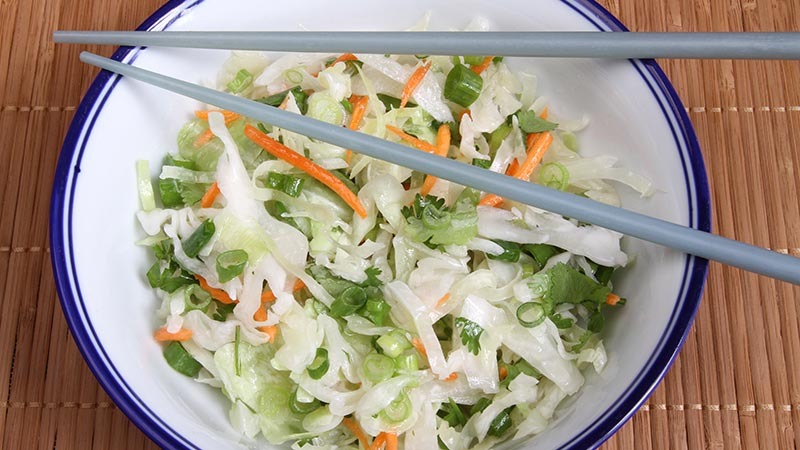 Asian Style Cole Slaw Gluten-Free Recipe
Asian Style Cole Slaw Gluten-Free Recipe
Low in sugar and high in antioxidants, this Asian Style Cole Slaw recipe tastes amazing! It pairs well with almost any protein and is a snap to prepare. You can make it ahead of time and let it sit in the fridge until needed. It also makes a great party dish for barbecue season and beyond.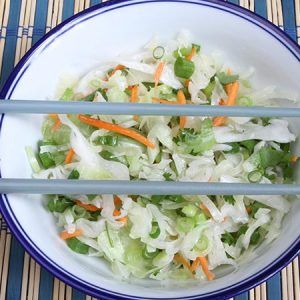 Recipe type:
Gluten-Free, No Sugar Added, Paleo, Primal, Vegetarian, Vegan, Nut-Free, Dairy-Free
Ingredients
⅙ cup rice vinegar
¼ teaspoon Chinese 5 spice powder (or to taste)
1 tablespoon vegetable oil
1 teaspoon toasted sesame oil
¼ teaspoon salt (or to taste)
½ large head Savoy cabbage (about a 2½ pound cabbage), thinly sliced
1 carrot, shredded
2 green onions, thinly sliced
¼ cup chopped fresh cilantro leaves (Fresh parsley may be substituted)
Instructions
In a large bowl, use a wire whisk or a fork to mix together the rice vinegar, Chinese 5 spice powder, vegetable oil, sesame oil, and salt.
Add the cabbage, carrots, green onions, and cilantro; toss gently until the dressing is evenly distributed over the vegetables.
Cover tightly and refrigerate until it is time to serve.
Notes
This recipe makes enough for leftovers, which keep quite well, covered, in the refrigerator for several days. It's a great addition to a packed lunch!
Nutrition Information
Serving size:
½ Cup
Calories:
30
Fat:
2g (1 Calorie from Fat)
Trans fat:
0g
Carbohydrates:
2g (1g net carbs)
Sugar:
0g
Sodium:
74mg
Fiber:
1g
Protein:
trace