Gluten-Free, No Sugar Added, Paleo, Primal, Vegan, Dairy-Free, Nut-Free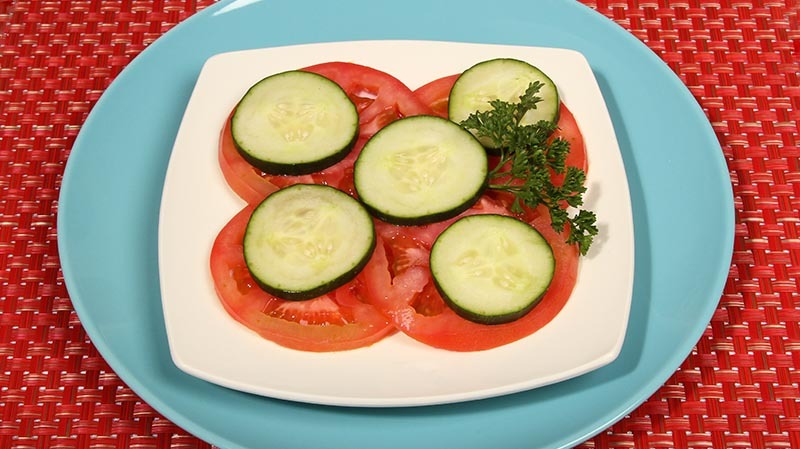 Gluten-Free Dijon-Garlic Tomatoes & Cucumbers
Gluten-Free Dijon-Garlic Tomatoes & Cucumbers
Gluten-Free Dijon-Garlic Tomatoes and Cucumbers is cool and refreshing. It makes a great summer side dish. The longer you marinate it, the better it tastes. It double easily if you're having a large crowd for over for dinner.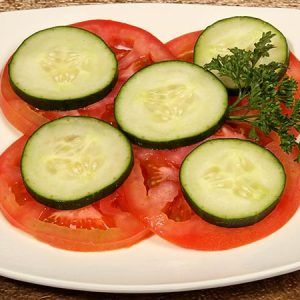 Recipe type:
Gluten-Free, No Sugar Added, Paleo, Primal, Vegan, Dairy-Free, Nut-Free
Ingredients
3 large tomatoes, sliced
3 cucumbers, sliced (do not peel)
⅓ cup salad or olive oil
⅓ cup white wine vinegar or vinegar
1 tablespoon snipped parsley
3 cloves garlic, minced
1 teaspoon granulated Swerve
1 teaspoon Dijon-style mustard or ¼ teaspoon dry mustard
Instructions
Place the tomato and cucumber slices in a Zip Lock bag or arrange them in a shallow casserole dish with a lid.
Combine all the remaining ingredients and mix well.
Pour the dressing mixture over the tomato and cucumber slices.
Close the Zip Lock bag or cover the casserole with a lid or plastic wrap and place the salad in the refrigerator to marinate for at least 30 minutes or up to 8 hours.
To serve, remove the tomatoes and cucumbers with a slotted spoon into a serving bowl or arrange on four salad plates.
Notes
The Dijon-Garlic dressing for this salad is also good for marinating meat.
Nutrition Information
Serving size:
1 Cup
Calories:
218
Fat:
19g (158 Calories from Fat)
Carbohydrates:
13g (10g Net Carbs)
Sodium:
32mg
Fiber:
3g
Protein:
3g