Gluten-Free, Sugar-Free, Paleo, Primal, Nut-Free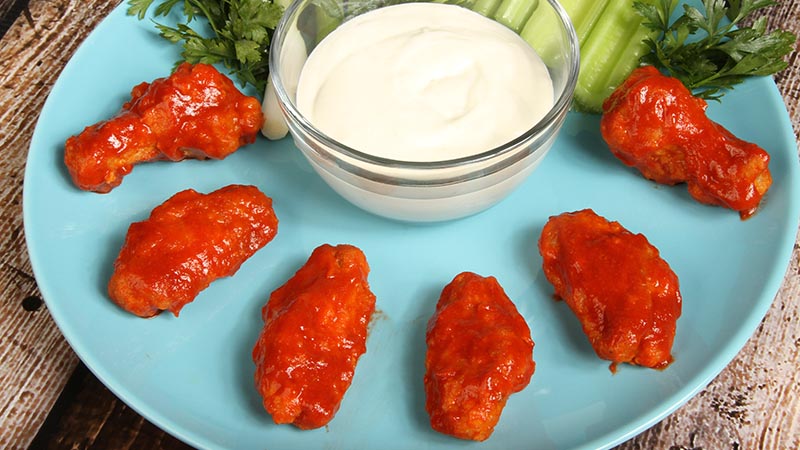 Sriracha Chicken Wings Sugar-Free, Gluten-Free Recipe
Sriracha Chicken Wings Low-Carb Gluten-Free Recipe
There is nothing like a big old plate of Sugar-Free Gluten-Free Sriracha Chicken Wings to put a smile on my face. In fact, wings are my go-to Saturday night dinner. If I'm feeling especially generous, I might make them for the whole family. But if I'm being honest, most times I wait until the boy goes to bed and it becomes a feast for the hubby and me. Throw in some celery sticks and a tall, cold glass of iced tea and I am a happy camper!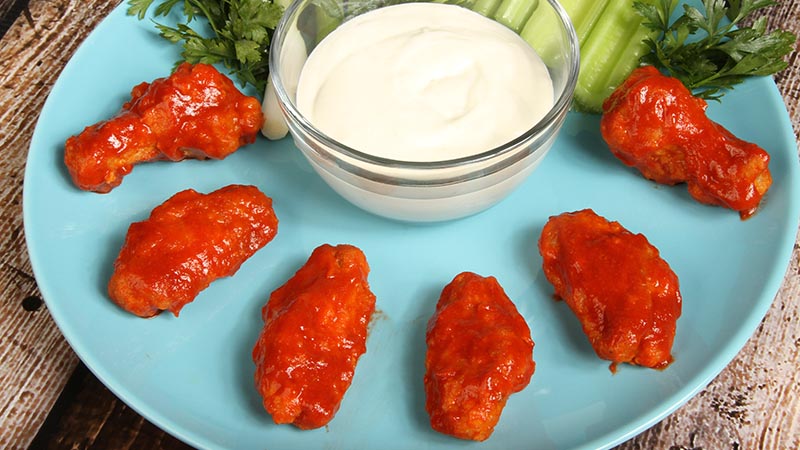 Recipe type:
Sugar-Free, Gluten-Free, Paleo, Primal, Nut-Free
Prep time:
Cook time:
Total time:
Ingredients
2 pounds chicken wings, tips removed
¼ teaspoon ground cumin
¼ teaspoon ground coriander
1 teaspoon kosher salt
¼ teaspoon ground black pepper
2 tablespoons extra virgin olive oil
2 cloves garlic, finely minced
¼ cup onion, finely minced
1 tablespoon apple cider vinegar
1 teaspoon coconut aminos
½ cup olive oil for frying
1 tablespoon tomato paste
½ teaspoon lime zest
½ tablespoon lime juice
2 tablespoons grass-fed butter, melted
Instructions
Rinse the chicken wings and pat them dry. Set aside.
In a large mixing bowl, combine cumin, coriander, kosher salt, black pepper, olive oil, garlic, onion, cider vinegar, and coconut aminos.
Toss the wings in the spice mixture and make sure they are well coated. Cover and refrigerate at least 4 hours or overnight.
Preheat the oven to 375° F.
Spread the wings on a large rimmed baking sheet and roast for 30 minutes, until firm but not cooked through.
In a large pot, heat the olive oil for frying. When the oil is hot, add the wings pot and fry for about 5 minutes. If you don't want to fry the wings, let them roast in the oven for about 1 hour longer, until crisp and golden brown.
In a large saucepan, combine tomato paste, sriracha sauce, lime zest, lime juice, and butter. Heat and stir well to combine. When thoroughly combined, remove from heat and set aside.
When the wings are fully cooked, add them to the sauce and toss well.
Shake off any excess sauce and transfer the wings to a platter.
Serve immediately.
Notes
Serve with celery sticks and bleu cheese or ranch dressing.
Nutrition Information
Serving size:
10 Wings
Calories:
384
Fat:
33g (299 calories from Fat)
Trans fat:
0g
Carbohydrates:
4g (3g Net Carbs)
Sugar:
0g
Sodium:
998mg
Fiber:
1g
Protein:
17g