From Easy Gluten-Free Entertaining by GlutenSmart Press
Gourds and Greens Soup Recipe
Spring greens are delightful and our bodies crave them after a long dreary winter. You can feature baby greens such as arugula, chard, kale, spinach and even some lettuces in this fragrant clear broth, along with the many varieties of small onion shoots that are in the farmers markets at the beginning of the spring season. For gourds, you can use early cucumbers or summer squash, or butternut squash and small winter pumpkins that are still found on market shelves as the seasons change. I like to cook chunks of a winter squash like a kubocha into the soup, and then throw chunks of seeded and peeled cucumber in to cook just long enough to warm through. The finished product has the soft sweet texture of the winter squash and some of the crunch from the summer gourd to contrast it. Feel free to play with the seasonings as well. Instead of (or in addition to) the cinnamon and nutmeg, try out cardamom, galangal, allspice, or even a generous pinch of saffron to season the broth.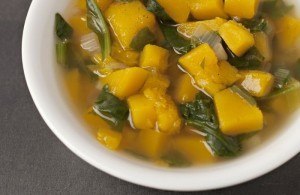 Author:
Christine Seelye-King
Recipe type:
Gluten-free, Grain-free, Nut-free, Dairy-free, Vegetarian (optional), Vegan (optional)
Ingredients
6 cups chicken or vegetable stock (Recipe in the Cookbook)
1-2 cups peeled and cubed squash or gourds
1 thumb sized knob fresh ginger, grated
1 cup sliced green onion shoots, scallions, ramps or green garlic
2-4 cups sliced fresh greens
½ tsp. cinnamon
¼ tsp. freshly grated nutmeg
1 tsp. salt
½ tsp. freshly grated black pepper
Optional: ½ pound ground spring lamb, venison, turkey, or tempeh; sautéed, drained and cooled
Instructions
Heat stock and add seasonings. Let simmer for 10 minutes and check flavor. Adjust seasonings to taste.
Add the sliced onions and return to the simmer.
Add the peeled and cubed gourd chunks. If you are using a combination of winter and summer squashes, add the harder chunks first and let them cook for 10 minutes before adding the softer chunks.
Add optional proteins and let cook into the broth. Whether using meat, poultry or soy, the protein here is used as a garnish, not as a main player in the soup.
Add the sliced greens. Cook just until wilted for tender greens like spinach and lettuce, longer for heartier leaves like kale and chard. Use baby versions for quicker cooking times.
Adjust for final seasoning.
Nutrition Information
Serving size:
2½ Cups
Calories:
63
Fat:
1g (11.1% calories from fat)
Carbohydrates:
8g
Sodium:
182mg
Fiber:
3g
Protein:
3g
Cholesterol:
0mg
Serving Suggestion
To give the broth brightness, use lemon juice or apple cider vinegar just before serving or on the table for diners to add.
Serve in bowls alongside Hearty Flavors Bread (Recipe in the Cookbook).
How to Order
Easy Gluten-Free Entertaining Cookbook
by Christine Seelye-King & Aimee DuFresne