Salt Roasted Asparagus and Lemon Zest Recipe
Roasting asparagus quickly in a hot oven is a fantastic way to preserve and concentrate all of the wonderful spring flavor inside each stalk. A simple brush of olive oil and a sprinkling of salt are all that are needed to complete this dish, making it an ideal platform to show off those gourmet salts you've been hoarding! Any flake salt will do the trick, the flat flakes stick to the round asparagus stalks better than the rounded crystals found in regular table salt. Kosher salt, finishing salt, or Fleur de Sel all would shine alongside a few strips of lemon zest on top of this spring classic!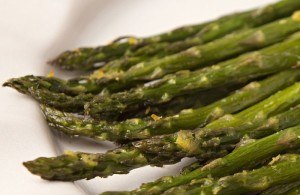 Author:
Christine Seelye-King
Recipe type:
Gluten-free, Grain-free, Nut-free, Dairy-free, Vegetarian, Vegan
Ingredients
24 stalks fresh thin asparagus, cleaned
1 oz. fine olive oil
Zest of 1 lemon
Flake Salt
Instructions
Rinse the fresh asparagus and gently bend each stalk. They will each break at the spot where they go from being woody to tender, so don't expect them to all be exactly the same length. You can trim them if you want them to line up evenly for a presentation.
Arrange the asparagus on the baking sheet. (Covering the sheet with foil makes for easy cleanup!)
Using a pastry brush, give each stalk a light brushing of olive oil.
Sprinkle the lemon zest around on top, and finish with the salt of your choice.
Place in a 400º oven for 10 minutes or until the asparagus starts to brown on the edges.
Nutrition Information
Calories:
56
Fat:
5g (71.6% calories from fat)
Carbohydrates:
3g
Sodium:
23mg
Fiber:
1g
Protein:
1g
Cholesterol:
0mg
Serving Suggestion
Try to get them onto dinner plates. Don't be alarmed if they disappear from the baking sheet while your back is turned. The light brushing of good quality olive oil along with the combined taste of the salt and lemon zest eliminates the need for any other sauce.
How to Order
Easy Gluten-Free Entertaining Cookbook
by Christine Seelye-King & Aimee DuFresne