Gluten-Free, No Sugar Added, Paleo, Primal, Vegan, Nut-Free
Spinach Salad With Mandarin Orange Gluten-Free Recipe
Spinach Salad With Mandarin Orange Gluten-Free Recipe
A Gluten-Free Spinach Salad with Mandarin Oranges is a lovely addition to just about any meal. This salad is not weighed down by heavy cheeses or nuts and can be served as a side dish or a salad course.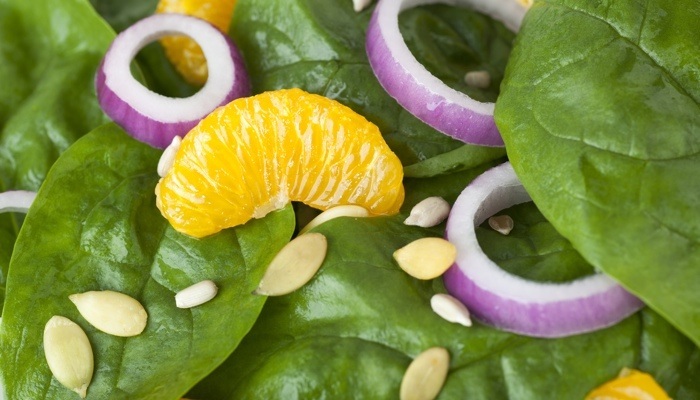 Recipe type:
Gluten-Free, No Sugar Added, Paleo, Primal, Vegan, Nut-Free
Ingredients
6 cups prewashed spinach
2 thin slices red onion
24 mandarin orange segments, canned or fresh
Salad dressing of your choice
Instructions
Divide the spinach greens between 4 salad plates or bowls.
Separate the onions into rings and divide them evenly in the salad bowls atop the spinach leaves.
Drain the mandarin oranges and place a few orange segments 4-6 on top of the spinach leaves and onion rings. Refrigerate the leftover mandarin oranges for another day.
Let everyone add their salad dressing at the table.
Notes
Nutritional information does not include salad dressing.

Whenever you use a canned ingredient, try to use organic. Not only is it much healthier, but it also tastes better.
Nutrition Information
Serving size:
1½ Cups
Calories:
29
Fat:
trace
Trans fat:
0g
Carbohydrates:
6g (4g net carbs)
Sugar:
0g
Sodium:
36mg
Fiber:
2g
Protein:
2g