Gluten-Free, No Sugar Added, Primal, Vegetarian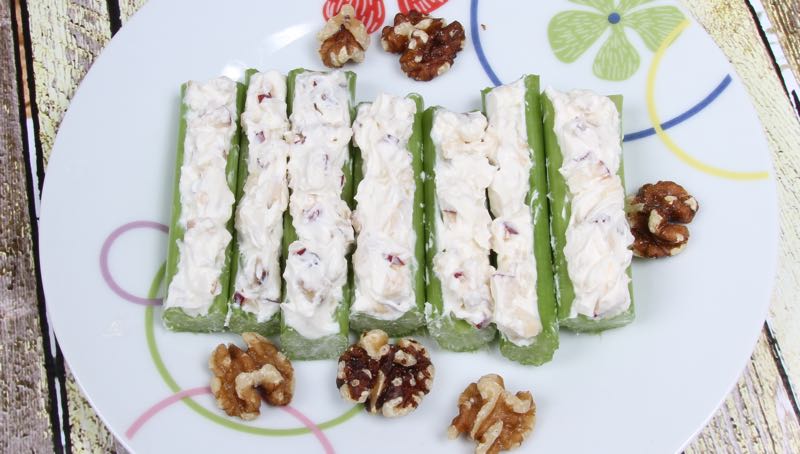 Stuffed Celery Sticks With Apples & Walnuts Recipe
Stuffed Celery Sticks With Apples & Walnuts Recipe
Stuffed Celery Sticks With Apples & Walnuts is a very versatile Gluten-Free, No Sugar Added dish. You can serve it as an appetizer, a side dish, or even a snack. They are quick and easy to make and a big crowd pleaser. Any way you serve them up, they are a delicious!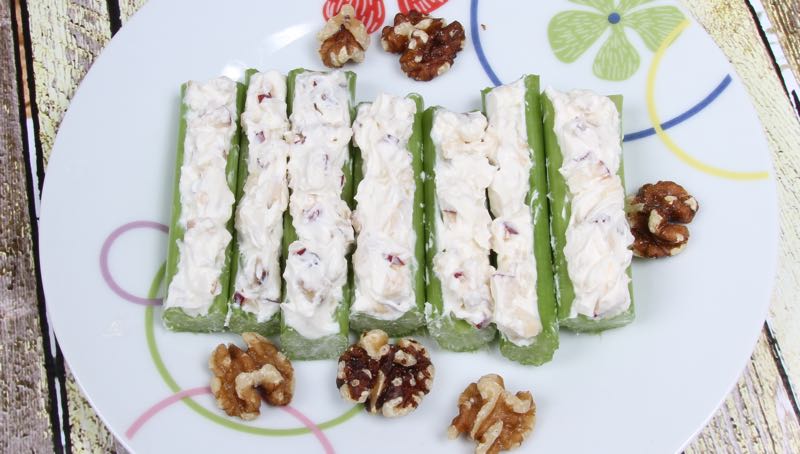 Recipe type:
Gluten-Free, No Sugar Added, Primal, Vegetarian
Ingredients
1 head celery
8 ounces cream cheese
2 ounces smoked Gouda cheese, crumbled
¼ cup walnuts, finely chopped
¼ cup apples, finely chopped
Instructions
Trim off the leaves and ends of the celery, then wash and drain it thoroughly. Pat dry, and cut into 3-inch pieces. Wrap the cut pieces in a damp paper towel placed in a Zip Lock bag until you are ready to stuff them.
Place the cream cheese in a food processor or blender. Run the machine until the cream cheese is lightly whipped.
Add the finely shredded smoked Gouda cheese and pulse until the two cheese are well blended.
Add the finely chopped walnuts and pulse again briefly.
Add the finely chopped apple and pulse again briefly.
Fill the celery sticks with the mixture. Serve chilled.
Notes
Only stuff as much celery as you want for the meal and store the extra celery and cream cheese mixture separately to serve at a later time.
Nutrition Information
Serving size:
Two 3" Pieces
Calories:
162
Fat:
14g (124 Calories from Fat)
Trans fat:
0g
Carbohydrates:
4g (2g net carbs)
Sugar:
0g
Sodium:
210mg
Fiber:
2g
Protein:
5g
Looking for easy appetizers to make that the whole family will love? Visit our
Gluten-Free Appetizer recipes
section.