Gluten-Free, No Sugar Added, Paleo, Primal, Nut-Free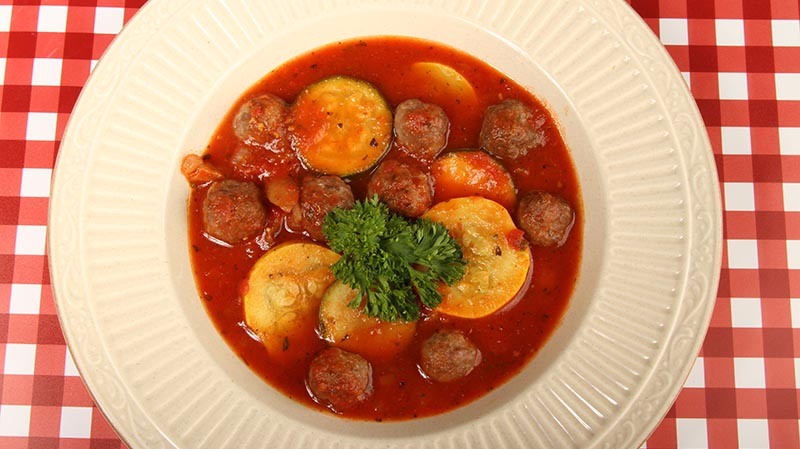 Authentic Italian Meatball Stew Gluten-Free Recipe
Authentic Italian Meatball Stew Gluten-Free Recipe
Nothing is more comforting on a cold winter's day than a nice hot bowl of stew. Authentic Italian Meatball Stew is a delicious addition to your Gluten-Free No Sugar Added winter menu line up. If you're like me, you probably start to cook and freeze a few of your favorite soups and stews as soon as fall turns to winter. It freezes well and will be a big hit with your family and friends.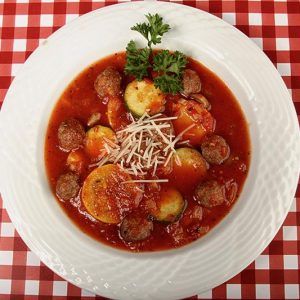 Recipe type:
Gluten-Free, No Sugar Added, Paleo, Primal, Nut-Free
Prep time:
Cook time:
Total time:
Ingredients
2 tablespoons olive oil
1 small onion, diced
1 teaspoon minced garlic
1 bell pepper (any color), sliced
1 14-ounce can beef broth
1 28-ounce can crushed tomatoes, organic
1–2 teaspoons oregano
¼ cup chopped dried parsley
2 teaspoons Italian seasoning blend
salt (to taste)
black pepper (to taste)
3 small OR 2 medium zucchini, sliced
3 small OR 2 medium crookneck squash, sliced
8 ounces mushrooms, quartered
1 recipe Italian Meatballs, completely thawed to room temperature if frozen
Shredded Parmesan cheese (for garnish optional)
Instructions
Pour the olive oil into a large skillet and heat it over medium high heat. Add the diced onion, garlic, and bell pepper to the skillet and saute them for 1-2 minutes, stirring constantly, until the onion just begins to wilt.
Add the beef broth, crushed tomatoes, oregano, parsley, Italian seasoning, salt, and pepper to the skillet and bring the mixture to a boil.
Reduce the heat to medium low and cover the skillet. Simmer, covered, for 20 minutes.
Add the zucchini, crookneck squash, mushrooms, and meatballs to the stew. Cover and simmer 15-20 minutes longer, or until the squash and mushrooms are tender and the meatballs are heated through.
Place the stew in large soup bowls. Sprinkle Parmesan cheese on top of the stew in each bowl and serve immediately.
Notes
This stew freezes and reheats very well.
Nutrition Information
Serving size:
1 bowl
Calories:
113
Fat:
4g (32 Calories from Fat)
Trans fat:
0g
Carbohydrates:
16g (11g net carbs)
Sugar:
0g
Sodium:
397mg
Fiber:
5g
Protein:
6g