From Easy Gluten-Free Entertaining by GlutenSmart Press
Stuffed Tomatoes with Truffle Herbed Goat Cheese Recipe
When I think of spring, immediately the vision of tulips come to mind. So, why not serve up some edible tulips at your spring party? In the form of tomatoes, that is. Hollow out a tomato and what does it resemble? You got it, a tulip. Now pair it with some creamy goat cheese, herbs and a touch of truffle oil and you have one delicious garden bouquet to serve up to your guests.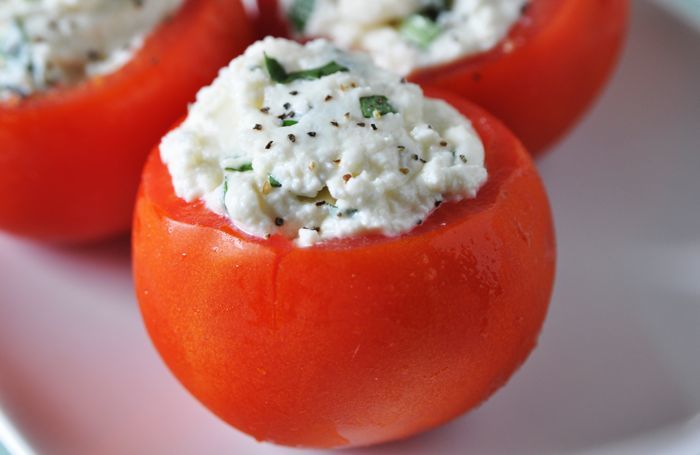 Recipe type:
Gluten-free, Grain-free, Nut-free, Vegetarian
Ingredients
8-10 small vine-ripened tomatoes
½ cup goat cheese
5-8 fresh basil leaves, minced
½ teaspoon truffle oil (plus a little to garnish)
Salt and pepper to taste
Instructions
Hollow out the tomatoes by cutting carefully into the top to remove the top and stem. Use a spoon to remove the seeds. The remaining hollowed out tomato will look similar to a tulip.
Mix the goat cheese, basil, truffle oil, salt and pepper.
Stuff the goat cheese mixture into the tomatoes.
Serve on a plate and garnish with a little truffle oil and strips of fresh basil.
Nutrition Information
Calories:
52
Fat:
3g (39.6% calories from fat)
Carbohydrates:
6g
Sodium:
40mg
Fiber:
1g
Protein:
3g
Cholesterol:
6mg
Variations
You can use dry herbs, oregano and basil which all work well. Use enough to lightly flavor the cheese, about ½ teaspoon each.
Use olive oil in place of truffle oil and garnish with a little balsamic vinegar.
Use yellow tomatoes in place of red – or in addition to red tomatoes for an even more vibrant looking dish.
How to Order
Easy Gluten-Free Entertaining Cookbook
by Christine Seelye-King & Aimee DuFresne