Gluten-Free, No Sugar Added, Primal, Nut-Free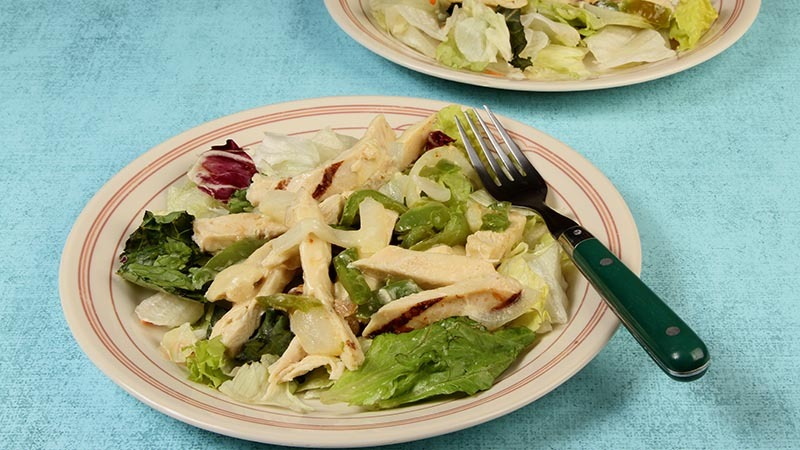 Gluten-Free Hot Chicken Philly Cheese Salad Recipe
Gluten-Free Hot Chicken Philly Cheese Salad Recipe
Hot Chicken Philly Cheese Salad is the perfect meal when it's just you and your honey or even a nice lunch with a friend. It's hot and filling, and most importantly very quick to throw together, especially if you have some pre-cooked chicken breasts in your freezer.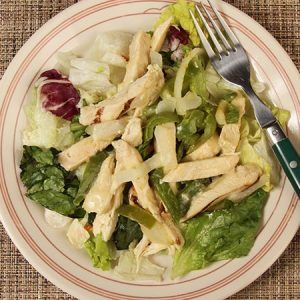 Recipe type:
Gluten-Free, No Sugar Added, Primal, Nut-Free
Prep time:
Cook time:
Total time:
Ingredients
6 cups salad greens
1 tablespoon olive oil
½ cup onion, thinly sliced
½ cup green bell pepper, thinly sliced
3 chicken breasts, boneless, skinless, cooked, and thinly sliced (see note)
4 ounces shredded mozzarella cheese
Instructions
Divide the salad greens evenly between two dinner plates.
Heat the olive oil in a skillet. Add the onions and peppers. Cook until just crisp-tender. Remove the onions and peppers from the skillet and set aside.
Add the sliced chicken to the pan and continue cooking until the chicken is heated through. Top the heated chicken with the peppers and onions.
Add the cheese to the chicken, onions, and pepper. Continue cooking until the cheese is melted.
Slide the food on top of the salad greens and serve immediately.
Notes
I always broil a whole 4-pound package of chicken breasts at a time. That way I always have cooked chicken breasts in the freezer.
I marinate them with salad dressing before broiling them so that they have some flavor of their own. My favorite marinades are a zesty Italian dressing,
Caesar
dressing,
Greek vinaigrette
dressing, or a nice
Dijon vinaigrette
.
Nutrition Information
Serving size:
1½ breasts
Calories:
702
Fat:
30g (278 Calories from Fat)
Trans fat:
0g
Carbohydrates:
10g
Sugar:
0g
Sodium:
439mg
Fiber:
4g
Protein:
93g
More
Gluten Free Salad
Recipes.